The purpose of any film is that, it simulates experiences and otherwise communicates ideas, stories, perceptions, feelings, beauty, or atmosphere through the use of moving images In simple words a film is for entertainment and  creating awareness. But this film has made entire India to raise a question that why is this film even exists? They say," It would have been so much better if you didn't make the film than to make something like this!". How has censor board gave an approval to release this film? Isn't this the entire work they are supposed to do? The director of this film Om Raut spent 500crore and did such an awful and dreadful work! Y'all have already bombarded with the adrenaline rush after watching the trailer and the movie. But, lets start from the beginning!
This all started on October 2, 2022 when the teaser of Adipurush released. It was divulged at a grand teaser launch event on the bank of the river Saryu at Lord Rama's birth place in Ayodhya.  Click on this link to watch the teaser: https://youtu.be/jF5rJAXUY4A  . Just scroll down in the comment section, the audience has reacted insanely! The only thing that is being praised is the voice of Sharad Kelkar and the BGM at some point. After this response, the film makers decided to do some changes in the film and released the tailer on 6th June 2023. Watch the tailer by clicking here:  https://youtu.be/scNmYjoR-qM . One more announcement was made that there will be one seat reserved in every cinema hall for Lord Hanuman. This trailer raised hopes in the audience's heart as the dialogues, screenplay, visuals and the overall concept seemed fine except for the look of Ravana. The people were quite accepting compared to the response of the teaser at some point.
And then the film releases on 16th June 2023 and the real controversy starts! It was one of the most wrathful and disgruntled audience reaction in the history of Bollywood! India is extravagantly sensitive when it comes to God/religion and the story of Ramayana is known by everyone. Seeking advantage of this factor, this movie could have been the most iconic and loved all over India. But instead it is being hated and abhorred at every single inch!
Starting from the cast, Prabhas does not do justice with the character of Lord Rama at all and Kriti Sanon as Seeta is still acceptable to an extent. Saif Ali Khan is Ravana could also be more acceptable if the attire and his look would have been more like the Ravana and not any cheap villain in any other bollywood movie. Vatsal Sheth as Indrajeet is just an another word for disappointment. The least they could do was to get someone with a good physique! He got named as Indrajeet after he defeated Lord Indra, who is one the most powerful god's of all time and looking at Vatsal Sheth he doesn't seem more than a South Delhi tattoo artist. And for some reason Indrajeet doesn't look less than Flash who's just running all over the film and doing nothing. Devdatta Nage as Hanuman was a decent choice but the dialogues he got were not so decent.
There are memes all over the internet on his dialogues and people are getting furious which is so obvious at this point. The dialogues like "Jo hamari behno ko hath lagayge unki lanka laga dege", "Kapda tere baap ka, tel tere baap ka, aag bhi tere baap ki aur jalegi bhi tere baap ki" and the other dialogues like "Jali na?", "Ay tere bua ka bagicha hai jo hawa khane chala aya, marega beta tu aaj apni jaan se hath dhoyega", " mere ek sapole ne tumhare shehnaag ko lamba kar diya abhi to pura pitara bhara pada hai", "Kaam Dhanda nahi?" and many more! When did god spoke the language like this? On the top of that some Urdu, Arabic and Persion words have been used all along the film. Isn't this the basic responsibility to atleast write script in pure Hindi language in a religious movie like this? Some basic Urdu words like 'Shayad' would have been replaced by ' Sambhavtaha/ Kadachit' , Arabic word 'Shuruwaat' by 'Aarambh' , Persian word 'Teer' by 'Baan' , 'Khud' by 'Swayam' and many more.
Talking about the VFX, this is done to create more realistic feel but in this movie, the VFX has just made it way more unrealistic. Also, there were many parts where the BGM was put in such a way that it used to escalate the tension and curiosity about what would happen next and the next scene just gave nothing! If you are thinking to show this movie to your kids to create awareness about Ramayana, then I really request you not to do it. Because, the number of cuts made in the storyline of Ramayana is unbelievable! resulting in an absolute misleading film. The most basic and fundamental thing ever in Ramayana is that Ravana kidnapped Sita and carried her into his Pushpak Vimaan to his Lanka and the Lanka was made of gold. Here, the Lanka is shown black in color and it barely has gold elements in it and instead of Pushpak Vimaan, Ravana is shown to tie Sita on a huge black horrible creature who has huge wings like a Bat!? The film is also being called as 'The Ramayan from Kalyug'.
How can the film makers do changes and disturbance in the Indian roots in the name of creative freedom? Isn't it so obvious that people will be offended and furious? The only good thing in the entire movie that I found was the song 'Jai Shree Ram Raja Ram' which was being continuously in the BGM throughout the film and the other song 'Ram Siya Ram'. Click on the link to listen this song: https://youtu.be/Tl4bQBfOtbg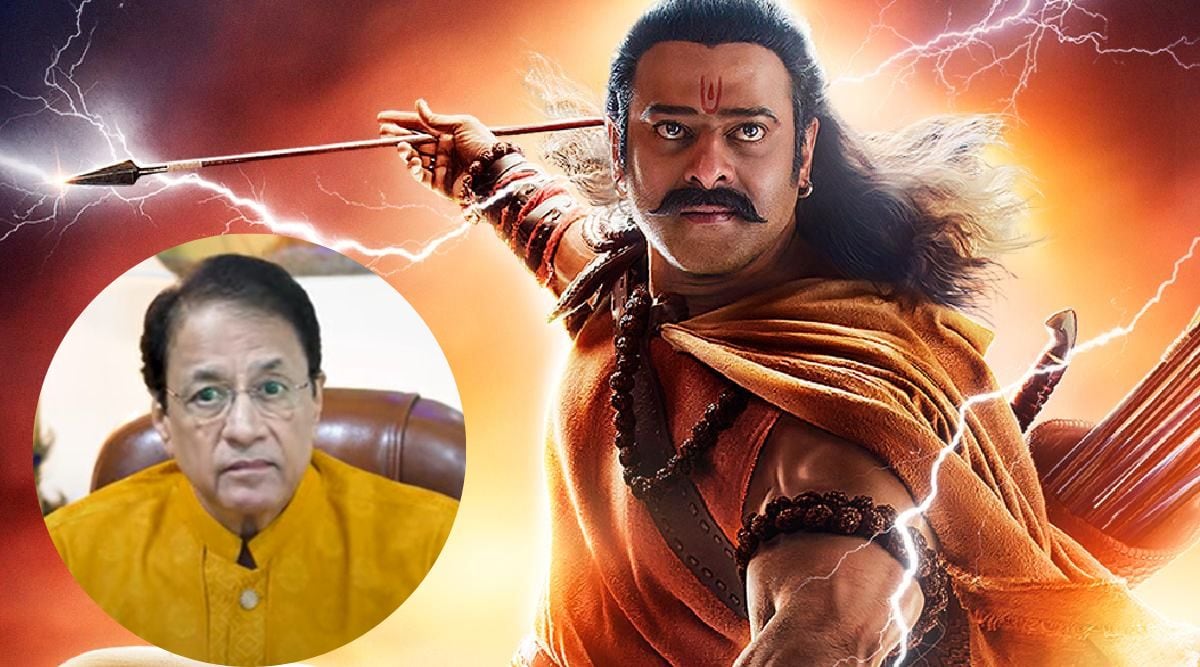 The OG Arun Govil Ji who played the role of Rama in the Ramayan TV series in 1987-1988 has also reacted to this film. He said," Ramayan hamare liye ek aastha ka vishay hai aur uske swaroop ke sath kisi tarah ki chedchaad ki jae, ye aswikarya hai. Ram Seeta ya Hanuman ko adhunikta aur pauranikta ke dhaanche mein baantna galat hai. Sabhi aadi hain aur anant bhi, inn sabke swaroop pahle se tay hain to usi swaroop ko film mein dikhane mein kya aapatti thi? Mool bhavana se chedchaad kar makers kya sabit karna chahte the?
Also, the news is being circulated that the makers of Adipurush accused of offering money in exchange for deleting negative reviews and the screenshots are going viral. In one of the viral messages, an anonymous text can be seen offering the user Rs 9,500 in exchange for deleting his tweet against the film. A couple of netizens took to their Twitter handles on Saturday to share screenshots of messages which they received after they posted their negative reviews of Adipurush. After this viral news, another news came into limelight that the Adipurush makers started giving copyright strikes to people who have posted videos and photos from the movie.
Now the makers are saying that they didn't made Ramayana, this movie is 'inspired' from Ramayana and a small part of Ramayana about Seeta Haran. Then why is the information misleading? Why are the dialogues disrespectful? VFX has nothing to do with Ramayana then why are those done badly? The problem is lying with  execution and bad story telling. Even the basics are not done properly.
Here are some memes from the movie:-