The wrestlers have alleged that the Delhi police (who report to the Centre) abused them and used violence to prevent folding cots reaching the protest site here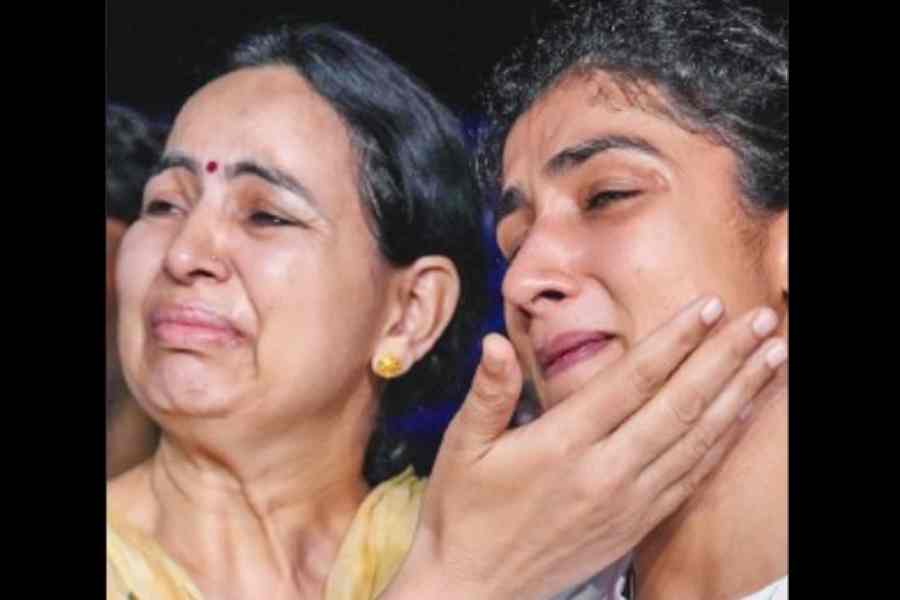 Congress leader Rahul Gandhi has termed the government's Beti Bachao slogan a "sham", referring to allegations by sobbing women wrestlers about police highhandedness on Wednesday night at their street protest.
"Such behaviour with the country's sportspersons is extremely shameful. Beti Bachao is just a sham. In reality, the BJP has never shied away from torturing the daughters of India," Rahul tweeted in Hindi on Thursday. The wrestlers have alleged that the Delhi police (who report to the Centre) abused them and used violence to prevent folding cots reaching the protest site here.
The women wrestlers are protesting against alleged sexual harassment of some of their colleagues by Wrestling Federation of India chief and BJP parliamentarian Brij Bhushan Sharan Singh.
Vinesh Phogat, an international champion, has complained: "As our mattresses got wet after a heavy downpour, we had asked for some folding cots. The police didn't allow that. They also abused us and hit some of the boys (men wrestlers who have joined the protest). One of them is in hospital."
Videos of Vinesh and fellow woman wrestler Sakshi Malik crying along with some other protesters have triggered an avalanche of criticism on social media.
Vinesh told the media: "Is this why we won medals for the country? That Brij Bhushan Sharan Singh is sleeping in his house and we can't even get replacements for our wet mattresses? We are sleeping on the road and the police are harassing us. If they want to kill us, we are ready to die."
Singh has repeatedly said that he would quit only if Prime Minister Narendra Modi or home minister Amit Shah asks him to. Neither has responded, prompting the Congress to allege that they are protecting an "oppressor".
Modi, in keeping with his habit of maintaining complete silence on uncomfortable subjects, has never spoken a word on horrific crimes against women such as the Unnao rape and the Hathras rape and murder in BJP-ruled Uttar Pradesh.
He remained silent also when a Union minister's son was accused of mowing down four protesting farmers and a journalist in Lakhimpur Kheri, Uttar Pradesh. Nor has he commented on the death of over 700 farmers during the movement against three controversial farm laws.
The Congress has alleged that the Prime Minister is always the first to call sportspersons when they win medals, trying to bask in their glory, but has shown no sympathy when the same players have been fighting for justice.
Priyanka Gandhi Vadra tweeted a video of the sobbing wrestlers with this message: "Seeing the tears in the eyes of sportspersons who won laurels for the country by their dedication and hard work is very painful. Their grievances should be heard and justice be given."
The Congress later said at a news conference that the government's real slogan should be "balatkari bachao (save the rapist)" instead of "beti bachao (save the girl child)".
"Who are these talented sportspersons expecting justice from? From a government whose morality and dignity are completely dead?" Congress social media head Supriya Shrinate said.
"What happened last night at Jantar Mantar is dreadful; Amit Shah's police misbehaved with and abused women sports icons. They even resorted to a lathi-charge.
"But the more important question is, why are Modi and Shah not removing Brij Bhushan? Why is he (Modi) silent even as you are aware of the sexual exploitation charge? With what face do you give sermons on 'nari shakti (woman power)' in the Karnataka elections?"
Shrinate added: "This ugly episode has unmasked so many faces – Modi, Shah, sports minister Anurag Thakur, minister of women and child welfare Smriti Irani, National Commission for Women chief Rekha Verma, sports icons who chose to remain aloof, and the media.
"The media is so miserable that it can't ask the Prime Minister why he is always found on the side of the oppressor and not of the victim. Let's see what Modi does in this case."
Boxing star Vijendra Singh held a news conference on behalf of the Congress, accusing the police of ill-treating players who won Olympic medals.
"Who gave instructions to the police to treat the sports icons in this manner? We stand with the wrestlers and demand justice for them," he said.
Amrita Dhawan, a young Congress politician, said at the news conference: "Those who do politics in the name of Lord Ram behave with women sports icons in this manner. We have seen what Swamy Chinmayanand and Kuldeep Sengar did. Torturing women is the BJP's history."
Sengar, a former BJP MLA, is serving a life term after being convicted of rape and murder in the Unnao case. Chinmayanand, a former Union minister of state for home in a BJP-led government, has been accused of forcing a college student to massage him.
"What was the crime of the sportspersons? Why did the police attack them for asking for a cot?" Dhawan asked. "Where is Smriti Irani? Is she supposed to speak only for her own daughter, not the country's daughters? The nation should support these daughters and ensure that such injustice is not done in the future. It's time to decide: shall we protect our daughters or rapists?"
Another Congress leader, Dolly Sharma, said: "If international sports icons are treated in this way, who is safe in this country?… Even a minor girl has been tortured. We saw Modi's video saying 'Vinesh, I can't see you crying'. Vinesh has been crying on the road for 13 days. Modi is happily campaigning in Karnataka, oblivious to their sufferings."