A single judge bench of Justice Dinesh Kumar Sharma said that he did not find any perversity or illegality in the trial court's order which had rejected his bail plea.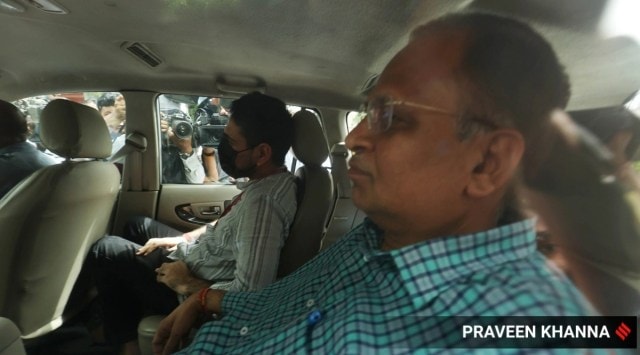 Former AAP minister Satyendar Jain, arrested on May 30 last year by the ED, is accused of having laundered money through four companies allegedly linked to him.
The Delhi High Court Thursday rejected the bail plea of former AAP minister Satyendar Jain in a money laundering case being probed by the Enforcement Directorate (ED).
A single judge bench of Justice Dinesh Kumar Sharma said that he did not find any perversity or illegality in the trial court's order which had rejected his bail plea. Justice Sharma also said that Jain has not met the twin conditions of Section 45 of the PMLA. The HC further observed that the shareholding patterns in the companies mentioned in the case show that Jain and his family were controlling the firms either directly or indirectly. The court also noted that Jain was an influential person and has the potential to tamper with evidence if released on bail.
A detailed judgment is awaited.
Jain was arrested by the Enforcement Directorate on May 30, 2022. The High Court had last month reserved its verdict on his bail plea.
A trial court, in its November 17, 2022, order had rejected Jain's bail plea observing that it "has prima facie come on record that Jain was actually involved in concealing proceeds of crime by giving cash to kolkata based entry operators, and bringing the cash into three companies".
The CBI registered the case in August, 2017, under the Prevention of Corruption Act and, a year later, filed a chargesheet against Jain, his wife, and four of his associates in the disproportionate assets case. Following this case, the ED had provisionally attached immovable properties worth Rs 4.81 crore belonging to Akinchan Developers Pvt Ltd, Indo Metal Impex Pvt Ltd, Paryas Infosolutions Pvt Ltd, Mangalayatan Projects Pvt Ltd, and JJ Ideal Estate Pvt Ltd.
It was the ED's case before the trial court that the companies under investigation were only paper companies that did not earn any income, and that Jain was in control of these companies. Jain, in his arguments before the HC had said that the ED's case is concerning the check period between February 14, 2015, and May 31, 2017, which is also mentioned in the chargesheet filed in 2018.
Senior advocate N Hariharan appearing for Jain had argued that there can't be a national basis for alleging money laundering. He argued that the ED would have to show that his client was in actual possession. "On actual possession, you are unable to place anything. The shareholding prior and post the check period is the same. Nothing was sold and bought, and this is an admitted position".
Hariharan had also pointed to the leading questions used by the central agency to examine witnesses to argue that the case against his client was going on an assumption that he was guilty.
On the other hand, additional solicitor general SV Raju appearing for the agency read out a witness statement alleging that the witness's mother was good friend's with Jain's wife Poonam Jain, and on a morning walk together Poonam told the witness's mother that her son can be appointed as a director in the companies that belonged to them. Raju had argued that Jain employed dummy directors in these companies.