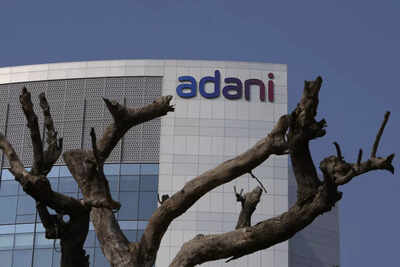 After more than a month of fall, 8 of 10 Adani Group shares rebounded on Tuesday with Adani Enterprises Gaining over 14% .The day's rally added over Rs 30,000 crore, or about 4.4% , to the groups market cap , its best day in terms of addition to its market value since February 8. Only Adani Total Gas and Adani Transmission closed lower, locked at the 5% circuit.
 At the close of trade , the group's total market cap was Rs. 7.1 lakh crore, Meanwhile, LIC under pressure due to its exposure to the Adani stocks, gained 1.9%. For last 12 days Gautam Adani led Adani Group has been bearing the brunt of the US short seller Hindenburg Report's 'expose' on the group. Adani had to withdraw the Follow on Public Offer (FPO) to boost confidence but nothing that the company has done so far has brought any good news. Bad news is piling up during the earning season taking the company stocks to rock bottom.
Stock analyst Aswath Damodaran has put a stock value of ₹947 on it. Adani Transmission is expected to come out with results today, whereas, Adani Ports and Adani Green will declare results tomorrow. Adani Power is expected to come out with results on 8th February.
Opposition is also using Hindenburg Report against Gautam Adani as a fodder against the government. Parliament was adjourned last week due to disruptions on the topic and expected to continue.
Adani Enterprises Ltd is an India-based company, with primary interests in energy and logistics sectors. The company`s segments comprises of: trading, power, port, agro, real estate and others. They have diversified interests in power, mining, oil and gas explorations, natural gas distribution businesses supported by port, shipping and trading activities. Their coal mining business involves mining, processing, acquisition, exploration and development of mining assets. Their city gas distribution business is undertaken through their wholly owned subsidiary, Adani Gas Ltd. They operate the real estate sector through their subsidiary, Adani Infrastructure and Developers Pvt Ltd. Adani Enterprises Ltd was incorporated in the year 1993 with the name Adani Exports Ltd. Initially,the company started as a partnership firm in 1988, and attained joint stock company status in the year 1993.
 In April 1, 1993, the company was accorded the status of "Star Trading House" by the Ministry of Commerce, Government of India. In April 1, 1994, they were accorded the status of "Super Star Trading House" by the Ministry of Commerce, Government of India. In September 1994, the company came out with the initial public issue. In the year 1998, the company became the top net foreign exchange (NFE) earner of the country, Jetty at Mundra Port started their operation and the Coal business of the company was commenced. In the year 2000, the company commenced trading in Edible Oil business. The company received Gold Trophy, SRTEPC 1999-00 and 2000-01. The company awarded "Five Star Export House" status. They successfully disinvested their stake in Mundra Container Terminal to P & O Ports, Singapore. The company was awarded the highest category `F` inter-state license for trading in power by the Central Electricity Regulatory Commission (CERC) in the year 2003. 
The company introduced new products like Iron Ore, Power Trading, Maize, Sesame Seeds, Sorghum and Barley etc. During the year 2003-04, the company bagged GCCI Export Appreciation Award. In the year 2005, the company received prestigious reorganisation of "Five Star Export House" on account of valuable contribution in country`s overall exports. In the year 2006, Adani Agrifresh commenced their business. The company commissioned two floating crane barge. They started the work on setting up grain silos under Adani Agri Logistics. Also they commenced the construction of 660 MW thermal power project at Mundra, AEL expanded jetties at Mundra Port initiated. In August 2006, the company changed their name from Adani Exports Ltd to Adani Enterprises Ltd, the change in name conveys evolution with a clear focus on their five SBUs viz. Power, Oil & Gas, Real Estate, Agro and Metals & Minerals.
 In July 17, 2007, the Base Depot constructed by Adani Agri Logistics was commissioned. The company entered into a long-term agreement with Gujarat Urja Vikas Nigam Ltd, to supply 2000 MW of electricity. In the year 2008, the company formed a joint venture company with Chemoil Energy for expansion of their bunkering business on pan India basis. In the year 2009, they received a Letter of Intent (LOI) for the Macchakatta Coal Block and LOA for Parsa Coal Block. During the year 2009-10, the company acquired/ set up eleven subsidiaries namely Adani Gas Ltd, Adani Pench Power Ltd (set up by Adani Power Ltd), Adani Power Pte. Ltd, Singapore (set up by Adani Power Ltd), Kutchh Power Generation Ltd (set up by Adani Power Ltd), Rahi Shipping Pte Ltd, Singapore (set up by Adani Shipping Pte Ltd), Vanshi Shipping Pte Ltd, Singapore (set up by Adani Shipping Pte Ltd), Adani Cements Ltd, Maharashtra Eastern Grid Power Transmission Company Ltd, Mahaguj Power Ltd (set up by Adani Mining Pvt Ltd), Adani Infra (India) Ltd and PT Aneka Sumber Bumi, Indonesia (acquired by Adani Global Pte Ltd, Singapore).
 Also, Sunanda Agri Trade Pvt Ltd and PT Kapuas Coal Mining, Indonesia ceased to be the subsidiaries of the company. During the year 2010-11, as per the scheme of amalgamation, certain promoter entities of Mundra Port & Special Economic Zone Ltd (MPSEZ), namely Adani Infrastructure Services Pvt Ltd, Advance Tradex Pvt Ltd, Adani Tradelinks Pvt Ltd, Pride Trade and Investment Pvt Ltd, Mauritius, Trident Trade and Investment Pvt Ltd, Mauritius, Radiant Trade and Investment Pvt Ltd, Mauritius and Ventura Trade and Investment Pvt Ltd, Mauritius was amalgamated with the company. Since the scheme of Amalgamation became effective, MPSEZ became a subsidiary of the company with 77.49% shareholding by the company. 
During the year, the company set up/acquired forth subsidiaries. Also, Adani Virginia Inc ceased as subsidiary of the company. In May 2011, the company`s wholly owned unit acquired Abbot Point Coal Terminal in Australia`s Queensland state for $2 Billion as part of their business expansion overseas. In March 2012, the company signed five agreements for supply of imported coal with NTPC Ltd, the power generation company. In 2012, Adani Group commissions India`s largest solar power plant in Gujarat. In 2013, the company begins integrated coal MDO operations in India with access to coal reserves of over 3 billion tonnes. In 2014, the company and Posco agree to build rail line in Australia. In 2015, Adani signs MoU with Australia`s Woodside Energy for Energy Cooperation.