Many movies are made everyday, but how many of them actually releases? and how many of them marks there place in audience's hearts? very few right! The comedy genre is harder to execute among all other genres. One wrong punch and all the humor is ruined or the whole concept gets diverted on a different path. One needs to be a brilliant actor with a great comic timing to be successful. But what exactly comedy is? Comedies are to provoke enjoyment and laughter which can be done through language and expressions which ranges from vernacular speech to puns and wordplay. It basically humorously exaggerates the situation resulting in laughter.
Which is that one movie that comes to your mind when you hear comedy? The one which comes straight to my mind is the most iconic comedy films of all time, 'Hera Pheri'. The trio of Akshay Kumar, Suneil Shetty and Paresh Rawal has done the most phenomenal work and marked their places in everyone's hearts. The movie was released in 2000's and was a remake of a Malyalam film and became a success grossing 17.8cr at box office. It came with the sequel 'Phir Hera Pheri' in 2006 and again became a huge success hitting 40.80cr on the box office.
And here is the good news to all the fans of Raju, Baburao and Shyam as the trio is coming back on the screen after 17 years of wait and the third part of this movie is now under proccess and will be releasing soon! There were many rumours about the movie at first that, Akshay has walked out and his role is taken over my Kartik Aryan which led all the fans with a huge disappointment. There were memes made of that dialogue of Baburao saying "Mereko toh aisa dhak-dhak horela hai" all over the internet. But accordiing to sources, the trio has started the shoot for 'Hera Pheri 3' from today i.e. 21st February 2023 and all the memes are now changed into "Abhi maza ayga na Bhidu" real quick!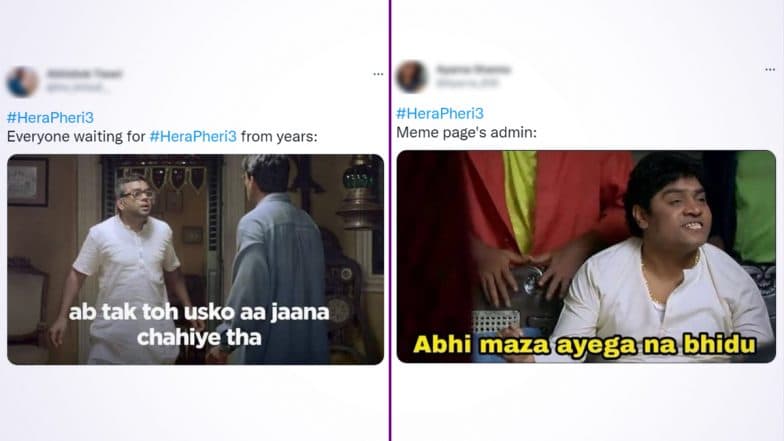 The wait is killing inside right? Till the next update comes, here are the links of first two parts below.
Hera Pheri:- https://youtu.be/TIQ5hrfermg
Phir Hera Pheri:- https://youtu.be/TmxYlA26Jr4