"कोई कैसे उन्हें ये समझाए
सजनिया के मन में अभी इंकार है
जाने बलमा घोडे पे क्यों सवार है"
You must have heard these song lyrics trending all over social media in recent times. But, believe me, not only the song, but also the film, is trending and winning hearts even after a month of release. Yes, you guessed it right; I'm talking about the film "Qala"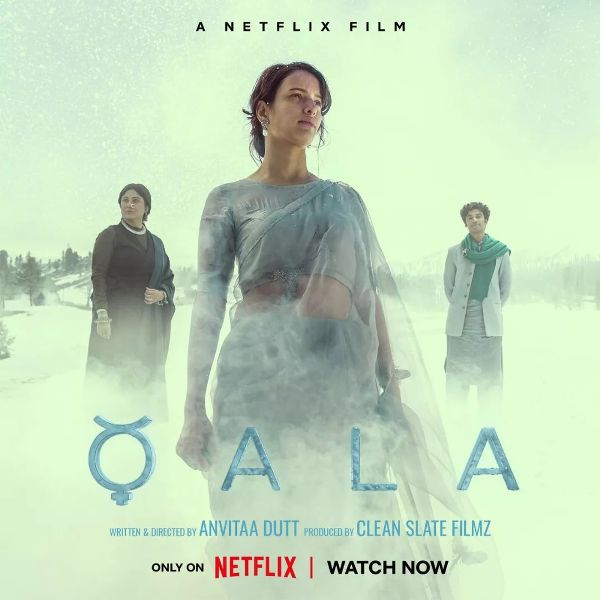 Released on December 1, 2022, this film has absolutely contributed to the good ending of the year. Written and directed by Anvita Dutt, and produced by Anushka Sharma and Karnesh Sharma, The dialogues are so impactful and brilliantly written, but the fabulous direction and cinematography by Siddharth Diwan have added stars to the film.
The movie is based on the story of a female singer who is haunted by her past and commits suicide in the end. Tripti Dimri is a beautiful actress who plays the lead character Qala Manjushree.She has impressed everyone with her outstanding acting skills, which I think added that emotional touch and connection to the film. Her character is very sensitive and fragile in the movie. Her mother's role is played by Swastika Mukherjee as Urmila Manjushree, who is the main protagonist in the movie. The third important character of the film is Jagan Batwal, who is flawlessly played by Babil Khan.
The film begins with a very touching scene in which Urmila loses her male child during the delivery of twins and the other female child survives because she is the stronger one.She names her "Qala" and is shown attempting to kill her baby girl. The story then forwards to a few years later, where Urmila wants Qala to continue the family legacy of singing, but she wants Qala to be a maestro and not a courtesan. There comes a very touching dialogue by Urmila: "A maestro should be added before your name, not a courtesan at the end." Urmila is shown harshly punishing Qala for her mistakes while singing.Qala was coping with everything until Jagan Batwal entered. Jagan Batwal is an orphan from a local Sikh temple, for whom singing is like breathing. As Urmila hears his magical voice, she takes him home and treats him like her own child. Here comes the moment when Qala realises that her mother has replaced her with Jagan. Qala spent her entire life trying to be perfect and impress her mother, and Urmila replaced her in seconds. There is a very powerful scene where it is shot from a high angle where Jagan is above Qala holding her, and the grass around them is in the shape of a puzzle, which shows the dominance of Jagan over Qala, who is stuck in the puzzle of life!
But at the point when Jagan was going to sing in movies, Qala mixed mercury in his milk, which took away Jagan's voice! He then commits suicide, and Qala gets his chance to make his movie debut and moves to Calcutta after the funeral, accordingly. She struggles with her first song, "Ghode pe Sawar," but she soon finds her identity, and as she succeeds, she is haunted by her past.She sees illusions of Jagan taunting her for stealing his privileges, and in the end, she finally commits suicide by hanging herself.
The movie is mixed with a lot of really marvellous and eye-catching scenes, but some scenes are predictable as well. The colour palette is mostly dark all over the film, and the way everything is portrayed in the film makes it very easy to understand the idea behind every scene. Now the question is whether it is based on a real story or not, but it is believed that Anvita Dutt took inspiration from the life of Master Madan for Jagan's character. Master Madan was a nationally known singer known for his Ghazal singings who died as a result of mercury poisoning. So, what do we think of this emotional roller coaster ride? See you in comments.
Trailer link: https://youtu.be/2g2sXGixh3w
Here is a link of Jukebox of the songs; https://youtu.be/-lcd1ixHqjE
Fun segments with movie's stars: https://youtu.be/7WGFjIdy6y4 , https://youtu.be/SzMH4Dq78UI